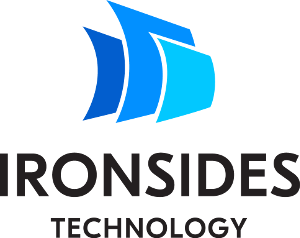 Ironsides Technology Saw Strong Growth in 2018 for Automated Production Tracking Software
Ironsides Technology Experienced 33 Percent Growth in 2018; Xerox Veterans Rob Coate and James Hansen Join the Ironsides' Team
Westford, MA. January 21, 2019. –  Ironsides Technology, a leading provider of automated production tracking software for the printing, mailing, fulfillment, and packaging industries, announced it had a strong year with 33 percent growth driven by the high demand for automated production technology in the offset and inkjet printing markets. To meet the increased demand and ensure continued customer success, the company has expanded its sales and product team with the addition of two Xerox industry veterans, Rob Coate and James Hansen.
"2018 was a great year for Ironsides with significant new customer growth through both our direct and channel sales," said Bill Riley, CEO and Founder of Ironsides Technology. "With the number of short print runs increasing, inkjet and offset printers are running thousands of jobs every week making it impossible to manually track each job down to the piece level. Ironsides APT software allows printers to integrate all aspects of the production workflow from pre-press, printing, inserting and mailing in order to track each item in real-time through the production workflow. This improves operational efficiency while ensuring 100 percent document integrity that every job is assembled correctly and meets the customer's SLA requirements." 
Ironsides Technology Expands European Management
Digital printing and automated document factory (ADF) expert, Rob Coate will consult and advise on Ironsides' product strategy for Nor'Star, a new production software suite that provides end-to-end traceability of individual jobs through the entire workflow process. While at Xerox, Coate was instrumental in driving their European transition to a services-led organization, establishing a network of Transactional Print and Mail Service Centers that managed national accounts. As part of this group, Coate designed and built an operating platform to rapidly transform legacy print jobs into full-color, transpromotional communications, leveraging the latest production inkjet systems, advanced document composition software and Ironsides APT™ (Automated Production Tracking) for print job and mail piece tracking. 
Ironsides Technology named James Hansen, vice president of sales for Europe responsible for leading the company's aggressive growth strategy in the region. Hansen has more than two decades of success in the production print industry selling Xerox DocuPrint and Docutech, continuous feed and inkjet technology.  At Xerox, Hansen was the Industrial Inkjet Specialist for Central Europe, Israel, Turkey and Greece. He also led the largest installation of Xerox Inkjet technologies and Ironsides APT software at Capita plc, UK's leading provider of business process outsourcing. 
"We are extremely excited to have both Rob Coate and James Hansen join the Ironsides' team," continued Riley. "They have a depth and breadth of knowledge that is unmatched in the industry. This will benefit our customers as they look to optimize their production processes. As a former customer, Coate's decision to join the company speaks to the product's strength. He will be instrumental helping us grow the Nor'Star suite and Ironsides APT platform to meet to needs of customers today and in the future."
About Ironsides Technology
Ironsides Technology is a software development and integration company, providing workflow automation and enterprise-wide integrity tracking solutions supporting all production devices and processes. Ironsides Automated Production Tracking (APT) is designed to automate manual and recurring operational processes. Based on an open and scalable architecture, Ironsides APT provides real time end-to-end job and piece level tracking, visibility and accountability through all production steps to ensure 100% distribution, SLA compliance, reprint automation, and robust operational reporting to help inkjet, continuous-feed and cut sheet printing customers better manage their businesses. 
Ironsides Technology easily integrates with web inspection systems and post print in line and off line bindery devices. Ironsides Technology also supports appropriate camera technology and tracking solutions in the finishing and insertion environment. The end result is a best-of-breed automated document factory (ADF) tracking strategy to ensure personalized client packages are processed efficiently and with the highest level of accuracy and compliance. 
For additional information please call us at + 1 (978) 589-8299 or email Info@ironsidestech.com