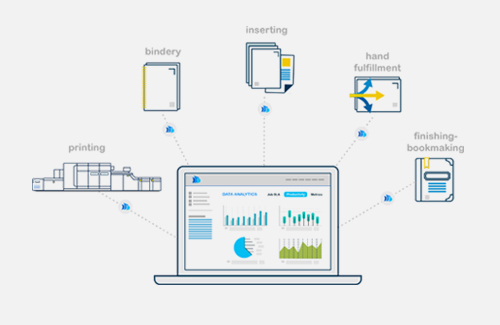 Ironsides Technology Previews Automated Order and Cost Tracking Software at PRINT17
In the Canon booth, Ironsides showcases how the Nor'Star business process management suite helps print and mailing companies track the true costs of each print job.
Westford, MA. September 6, 2017. –  Ironsides Technology, a leading provider of automated production tracking software for the printing, mailing, fulfillment, and packaging industries, will preview its Nor'Star business process management suite in the Canon booth #1213 at PRINT17 September 10-14 at McCormick Place in Chicago. Building on the success of Ironsides APT™ (Automated Production Tracking) software, Nor'Star will offer automated order tracking and cost analytics to help print and mailing companies track the true costs of each print job to the piece level to optimize production performance. 
"Today's printers are running more jobs than ever and it is physically impossible to manually track the true cost of each item," said Bill Riley, President of Ironsides Technology. "Front end planning systems help but are unable to track the actual cost of each job through the entire production print workflow from prepress to print production to bindery to inserting to finish bookmaking. Nor'Star provides the missing link by delivering an automated data collection solution allowing commercial print and mailing companies to connect valuable production and order tracking data with order and cost analytics."
At PRINT17 attendees will see a technology preview of Ironsides Nor'Star that incorporates Ironsides APT with order tracking and cost analytics software modules that help customers track jobs before print as well as compare job estimates against the cost of each job. Production print operators can learn how Nor'Star order tracking software provides end-to-end traceability of individual items through the entire workflow process. Nor'Star cost analytics provides detailed reports on production costing per job, machine and department (including labor) for document production order related materials.
"By analyzing estimation, planning and actual data with Ironsides unique ability to track individual pieces through the entire workflow process, companies can immediately see how much each job costs to produce and adjust future estimates accordingly," added Riley. "Nor'Star will allow companies to identify which types of jobs, customers or even shifts are more efficient and profitable. Printers can make more informed decisions when investing in new inkjet print applications to help drive business growth and better serve customers."
The Ironsides APT is a proven software that can help printers meet strict customer and regulatory requirements while providing a central dashboard for real-time data to ensure each job meets customer SLAs and is produced efficiently and on time.
"Over the past six years we have had a strong partnership with Ironsides APT for piece level tracking and we are excited to have them showcasing the upcoming Nor'Star Suite in our booth at PRINT17," said Ed Jansen, vice president of Professional Services, Canon Solutions America, Inc.  "Ironsides Nor'Star offers customers the ability to track jobs through the production cycle to help ensure industry compliance. This ability to confidently assure 100% delivery and the added insights into our customers' business operations and adds value to their investment in Canon production solutions."
For more information about Ironsides APT, visit www.IronsidesTech.com.  
About Ironsides Technology
Ironsides Technology is a software development and integration company, providing workflow automation and enterprise-wide integrity tracking solutions supporting all production devices and processes. The Ironsides Automated Production Tracking (APT) workflow is designed to automate manual and recurring operational processes. Based on an open and scalable architecture, Ironsides APT provides real time end-to-end job and piece level tracking, visibility and accountability through all production steps to ensure 100% distribution, SLA compliance, reprint automation, and robust operational reporting to help inkjet, continuous-feed and cut sheet printing customers better manage their businesses. 
Ironsides Technology easily integrates with web inspection systems and post print in line and off line bindery devices. Ironsides Technology also supports appropriate camera technology and tracking solutions in the finishing and insertion environment. The end result is a best-of-breed automated document factory (ADF) tracking strategy to ensure personalized client packages are processed efficiently and with the highest level of accuracy and compliance. 
For additional information please call us at + 1 (978) 589-8299 or email Info@ironsidestech.com
Canon is a registered trademark of Canon Inc. in the United States and elsewhere.