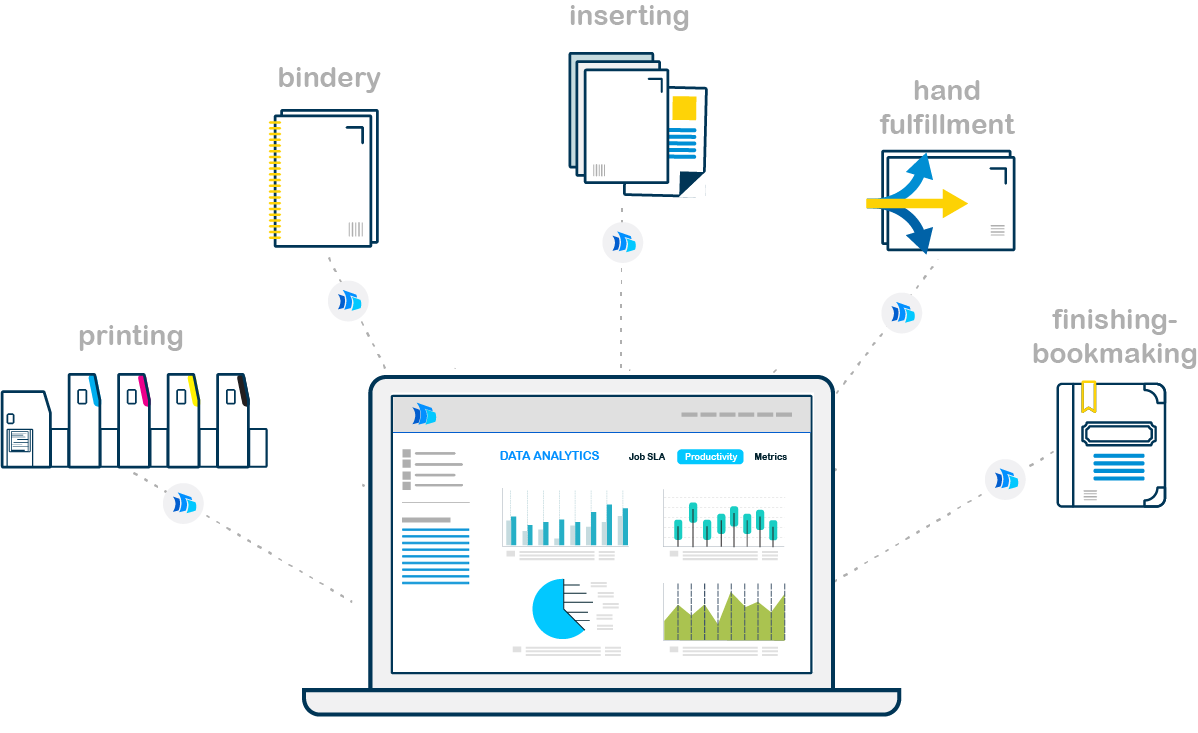 Prepress and production tracking automation, document integrity and productivity reporting for print and mail operations.
Get instant access to real-time data that allows you to make executive decisions that will grow your business and customer relationships. Ironsides Nor'Star also improves productivity through highly detailed reporting that helps you better manage staff and machine throughput, reduce bottlenecks and eliminate errors. Most importantly, it ensures 100% distribution compliance, providing your customers with assurance that all of their jobs down to the piece-level have been assembled correctly, accounted for, shipped and are fully compliant with all industry rules and regulations.
Ironsides AOT provides real-time visibility to all prepress operational activity for improved efficiency and time savings. The platform monitors and tracks the prepress process providing you with greater visibility into your workflow starting with order intake, through prepress and into the production process. Identify and track individual records, in real-time, as orders are received and move through your workflow. Comingle similar jobs for production batching while orders are in prepress helping to save costs, especially with ink jet printing. Detailed reporting helps prepress managers track jobs to identify potential bottlenecks and understand where and why rework was required.
Ironsides APT ensures the integrity of individual pieces and complete jobs across multiple production lines while providing performance benchmarking information to optimize production. Ironsides APT tracks pages and collations being printed, finished, mailed and shipped, in real time, across all brands of continuous and cut sheet printers, ink jet printers, inserters, and finishing equipment. With Ironsides APT, you always have desktop access to work-in-process, production benchmarking, integrity accuracy and delivery metrics necessary to optimize business performance.
Ironsides ACA automates the collection of data from all your production steps starting with order intake through prepress, print production, finishing, bindery, sorting and mailing. Powerful data analytics and detailed reporting highlight the actual cost of each job, contract, or client. You have instant visibility into their true costs per day, week, etc. or by shift, equipment customer and much more. Ironsides ACA allows you to make more informed business decisions to drive profitability, grow your business and identify new application opportunities.
Benefits
The Ironsides Nor'Star System provides you with the business intelligence required to improve efficiency, profitability and identify growth opportunities.
It is an easily integrated, highly scalable, real-time piece-level tracking and integrity reporting system. Ironsides Nor'Star allows users to efficiently manage production while ensuring the timely and accurate delivery of documents. 100% open, it integrates with existing prepress, composition, workflow, transformation and ADF products while allowing clients full access to the data. It is software and device independent and can be installed on any brand/model printer, inserter or finishing device. Developed to improve the operations and business performance of its users.
Manage risk

Job-level and piece-level tracking
Reduce customer information breaches
Improve facility and customer compliance

Improve margin

Group batch like jobs
Reduce production and reprint costs

Expand revenue streams

Customer Retention – horizontal and vertical departments
Provide new service offerings
Create new customer opportunities in highly regulated industries

Financial Services
Government
Healthcare
Data consolidation

One true command and control center
Centralized reporting

Open architecture, device independent

Create a standard tracking solution
Integrate with and adapt to current production devices/solutions
Protect your investment

Regulatory and contractual protection

HIPPA, FISMA
Avoid major quality disruptions
Risk and security audits

Elimination of manual processes

Automated reprint
Job/piece reconciliation
Reducing human intervention and potential error

Business Intelligence

Manage daily production
Utilization reporting

Operator
Machine
Facility

Client specific reporting
Audit reporting
Printer

API into controller
Web Inspection/2D reader
Job level tracking (work order scan)

Bindery/Finishing

Job level tracking (work order scan)
Ability to integrate with existing tracking products
Ability to install counting devices

Insertion platform

Ironsides camera installation
Log file receipt from existing vision system
Interested in working together?
Let's discuss your business technology needs and how we can help.