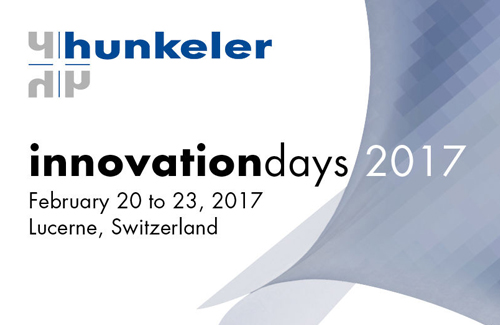 Ironsides Technology Exhibits at Hunkeler Innovationdays
Ironsides Technology Exhibits at Hunkeler Innovationdays; Sees Growth for Automated Production Tracking Solutions for the Print Industry
 Company expands European and United Kingdom operations adding sales and support staff to help customers adopt Print 4.0 strategies using real-time analytics to automate, control and optimize print workflows.
Westford, MA. February 20, 2016. – Ironsides Technology, a leading provider of automated production tracking systems for the printing, mailing, fulfillment, and packaging industries, will showcase its end-to-end, real-time document tracking system at Hunkeler Innovationdays, February 20 to 23 in Lucerne, Switzerland. The company also announced it is expanding its European and UK sales and support team to meet the growing demand for automated production tracking solutions by document processing centers and commercial printers.
"Print, mail, fulfillment and packaging centers are rapidly adopting digital technology such as inkjet production systems and looking towards Print 4.0 as a way to deliver personalized documents efficiently and effectively," says Bill Riley, President of Ironsides Technology. "At the Hunkeler Innovationdays, we will be demonstrating how the Ironsides Automated Production Tracking (APT) open software system provides the real-time visibility and data analytics needed to manage every job, down to the piece level, effectively through the production process while maintaining all the necessary industry compliance and customer SLA requirements. This helps print providers embrace Print 4.0, improve production productivity by reducing bottlenecks as well as eliminate print errors."
Ironsides APT helps companies make business changing decisions. The command and control dashboard provides instant access to real-time data collection and provides insights empowering businesses with a real competitive advantage, while expanding business opportunities. Ironsides APT optimizes productivity and document integrity for print, mail, fulfillment, and packaging operations. Ironsides APT is ideal for companies managing multiple jobs and requirements in a production run. With hybrid mail solutions on the rise, document processors using APT can connect to all document production devices – regardless of brand or model – for real-time output management automation, production control, integrity verification and compliance reporting. APT tracks individual pieces of every job meeting necessary audit requirements.  It also provides operators with the production benchmarking information needed to optimize business performance for document processing and distribution.
Ironsides Realized 65 Percent Sales Growth in Europe in 2016
"Over the past 12 months, we have seen a 65 percent increase in sales of our Ironsides APT solution in Europe, the UK and the Nordic region; and we do not see it slowing down," Riley continues. "To support the growth opportunities in these regions, we have added two exceptional individuals to our team who have a deep understanding of the market and a proven track record helping customers achieve their business goals."
Hans Swart joins Ironsides as a Sales Consultant to lead sales expansion in Europe. Swart has decades of product and marketing management experience in the toner and inkjet marketplace. He brings extensive hands-on experience in successfully resolving customer challenges in the print, mail, fulfillment, and packaging industries.
Alan Sykes joins the Ironsides Technical Support team servicing the UK and European regions. Sykes has over 30 years of experience architecting, integrating, training and supporting Automated Document Factory (ADF) technologies.
For more information about Ironsides APT, visit www.IronsidesTech.com.  
---
About Ironsides Technology
Ironsides Technology is a software development and integration company, providing workflow automation and enterprise wide integrity tracking solutions supporting all production devices and processes. The Ironsides Automated Production Tracking (APT) workflow is designed to automate manual and reoccurring operational processes. Based on an open and scalable architecture, Ironsides APT provides real time end-to-end job and piece level tracking, visibility and accountability through all production steps to ensure 100% distribution, SLA compliance, reprint automation, and robust operational reporting to help inkjet, continuous-feed and cut sheet printing customers best manage their business. 
Ironsides Technology easily integrates with web inspection systems and post print in line and off line bindery devices. Ironsides Technology also supports appropriate camera technology and tracking solutions in the finishing and insertion environment. The end result is a best-of-breed automated document factory (ADF) tracking strategy to ensure personalized client packages are processed efficiently and with the highest level of compliance. 
For additional information please call us at + 1 (978) 589-8299 or email Info@ironsidestech.com