Ironsides Technology Partners with Virtual Systems to Help Print and Mailing Companies Better Manage and Track Operational Activity and Performance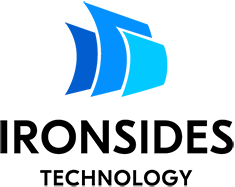 Ironsides Technology Partners with Virtual Systems to Help Print and Mailing Companies Better Manage and Track Operational Activity and Performance
Ironsides APT now integrates with Midnight Print MIS software providing customers with an end-to-end management and automated tracking solution.
Westford, MA. January 30, 2018. –  Ironsides Technology, a leading provider of automated production tracking software for the printing, mailing, fulfillment, and packaging industries, announced an integration partnership with Virtual Systems, a leading provider of Print MIS software. As a result of the partnership, Ironsides APT™ (Automated Production Tracking) software now integrates directly with the award-winning Midnight MIS software to provide print and mailing companies with an end-to-end solution for managing and tracking operational performance on the production floor.
Midnight is one of the most robust Print MIS tools available in the industry to control all facets of a print business from order creation and estimating through invoicing. Integrating with Ironsides APT enables Midnight customers to automatically track both the job-and piece-level across the production workflow and view the information directly in the Midnight dashboard. Ironsides APT's open architecture makes it easy to collect data from printing, bindery, insertion, finishing, and fulfillment systems which can be used in conjunction with Midnight's job creation and costing tools to manage staff and machine throughput, reduce bottlenecks as well as eliminate errors. Automated tracking also helps print shops improve risk management by ensuring compliance with end-customer SLA requirements.   
"We are excited to formalize our longstanding relationship with Virtual Systems," said TJ Forsythe, Business Solutions Executive, Ironsides Technology. "Ironsides APT is a perfect extension to the Midnight MIS software providing customers one comprehensive command and control center for understanding what's happening in real-time on the production floor. This integrated offering allows companies to make informed business decisions that improve automation, production, and overall operational efficiency."
"Our two organizations share a commitment to solving operational and information based challenges in print, mail, fulfillment, and marketing service industries and we share many of the same customers," said Chris Huber, President and founder, Virtual Systems. "Ironsides APT integration provides our customers with real-time job tracking and ability to see what is happening on any device at any time. By integrating this data into the Midnight software, our customers have one centralized dashboard for managing all their operations."
About Virtual Systems
Virtual Systems' award-winning Midnight is a cloud-based print MIS software for print, mail, and fulfillment operations. With powerful dashboards and rich APIs, companies can easily control all facets of the business.  The revolutionary technology allows companies to leverage all their investments to gain a competitive edge and ultimately please customers.
About Ironsides Technology
Ironsides Technology is a software development and integration company, providing workflow automation and enterprise-wide integrity tracking solutions supporting all production devices and processes. Ironsides Automated Production Tracking (APT) is designed to automate manual and recurring operational processes. Based on an open and scalable architecture, Ironsides APT provides real time end-to-end job and piece level tracking, visibility and accountability through all production steps to ensure 100% distribution, SLA compliance, reprint automation, and robust operational reporting to help inkjet, continuous-feed and cut sheet printing customers better manage their businesses. 
Ironsides Technology easily integrates with web inspection systems and post print in line and off line bindery devices. Ironsides Technology also supports appropriate camera technology and tracking solutions in the finishing and insertion environment. The end result is a best-of-breed automated document factory (ADF) tracking strategy to ensure personalized client packages are processed efficiently and with the highest level of accuracy and compliance. 
For additional information please call us at + 1 (978) 589-8299 or email Info@ironsidestech.com